Another New Comic Book Day is upon us! It's time to plan out your next trip to your local comic shop and take a look at this week's new comics! Hit the jump to check out reviews of my favorite comics coming out this week.
Disclaimer: I received advance copies of all comics featured this week courtesy of their individual publishers.
Opinions are my own.
Skyward #7 (Image Comics)
One day, gravity all but vanished from the world. A generation later, Willa has grown up knowing nothing but her low-G life. In the first arc of Skyward, Willa fought against socio-economic capitalism as she searched for a way to bring back gravity while the 1% lives happily and exploits the new world for profit.
In the second arc, Willa fights giant bugs.
Honestly, as weird and dumb as this shift in the plot sounds, it works! I loved the world building of the first arc, seeing how different corners of the city have changed in the low-G world. So seeing how the wild forests have changed is a lot of fun. Willa always wanted to get out of the city and see the world, but now she's going to wish she never left.
I also feel as if we're going to see Willa's trust get tested here. She's just lost her father and is now exploring the world with one friend - and he is instantly suspicious of Willa's new butterfly-riding companions.
Anyone who had misgivings about this new arc can relax: Skyward is still good and it only shows signs of getting better. A fresh new setting is sure to keep the series from getting stale and allowing more creativity for the team to spread their dragonfly wings.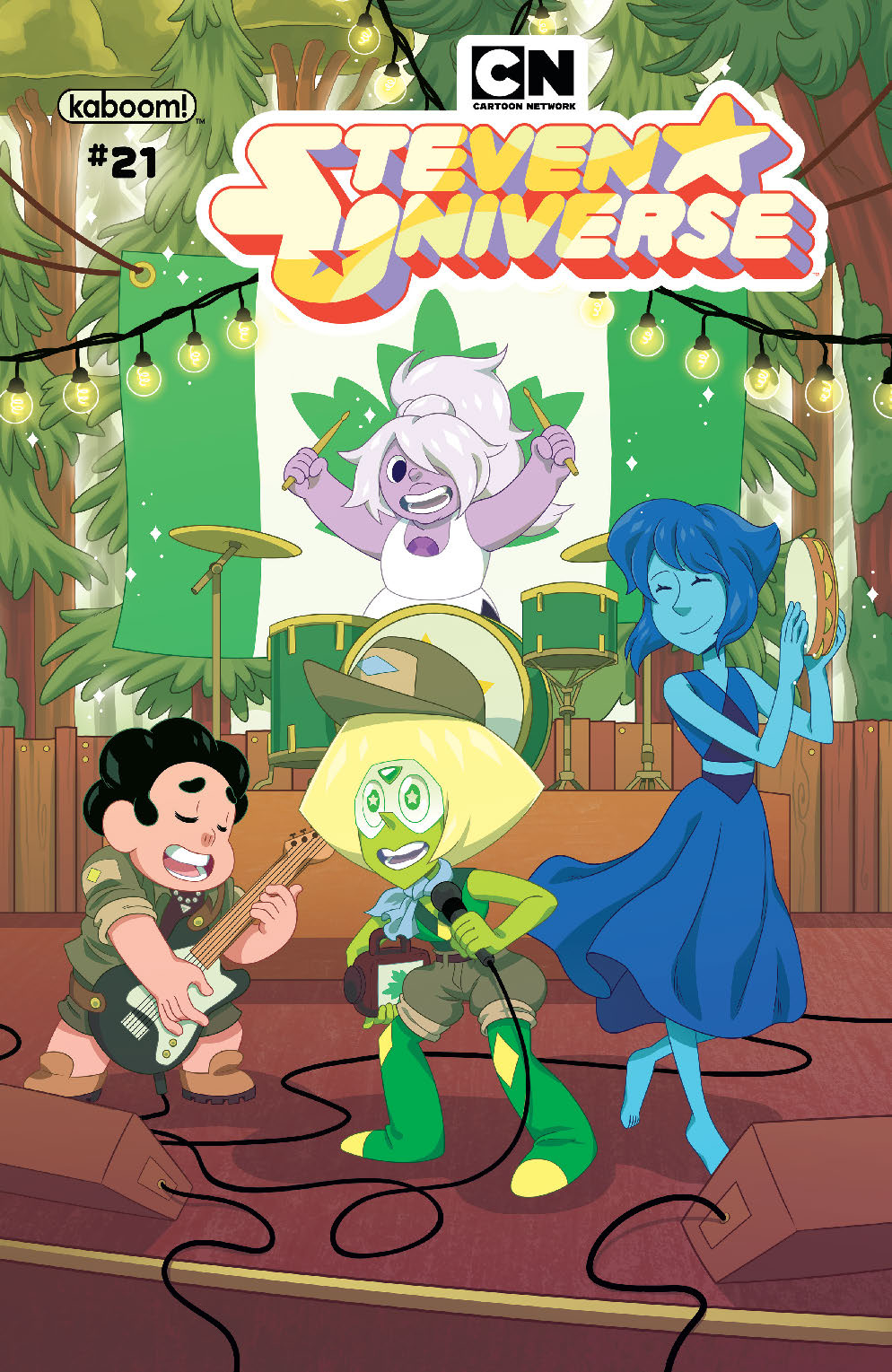 Steven Universe #21 (BOOM! Studios)
What's up, Steven Universe fans? Have you ever wanted to see Peridot learn how to play guitar? Well, you're in luck! This week's issue is pretty much just that!
The problem is that it's pretty much just that and nothing else. Peridot likes singing a song from Camp Pining Hearts, Steven offers to teach her how to play the song on guitar, Peridot struggles to learn guitar, Steven teaches her the value of practice but also not to push yourself, and then that's pretty much it.
It's not a bad story, it's just a simpler one. And sometimes that's what we need, especially when the show is inching towards bigger events. It's actually nice to see Peridot interacting with Greg. They're two of my favorite characters and they've never really interacted before. While the show gives us big cosmic storylines, it's nice to have these comics to lean on for smaller, character-driven stories.
Flavor #6 (Image Comics)
The first arc of Flavor comes to close this week. Xoo is an unlicensed chef in a mysterious walled city where food is the ultimate commodity and a dark mystery looms in the shadows beyond the walls. While Xoo's parents are very ill and their restaurant is falling apart, her uncle Geoff bets everything they got on her entering a prestigious cooking competition.
Everything has been leading up to this moment as the tournament finally begins. Despite the fact that this appears to be the "end" of all of Flavor as far as the publishing and business side of Flavor is concerned, this is really only the beginning. The series will continue in some form, most likely not with single issues, and each story will be a bit more self-contained with its own title.
So as this first "book" comes to an end, everything is just beginning. Xoo is finally cooking in the big leagues, but even though she's made some quick friends she still has to do her best to win - especially since she isn't able to make her signature crepes.
I normal hate tournament arcs in anime like Dragon Ball or Yu Yu Hakusho. They're usually dumb, forced conflict and an excuse to have non stop action without any real story. I make an exception when it comes to ridiculous competitive sports like Yu-Gi-Oh!, so keep that in mind when I say that I have been looking forward to this issue since it was first alluded to.
The competition seems chaotic and Xoo is already surrounded by a colorful cast of new characters who I am excited to see evolve into friend or foe. Also, Xoo has gone the entire series so far without sharing a panel with her old high society friend Anant. And we still haven't found out what is lurking beyond the walls.
Flavor is filled with all the ingredients that make up a great comic. The story is deliciously creative and the artwork makes you want to eat this universe up. Pre-order the complete series by clicking here. I promise to have better food puns before the hiatus is over.
Mech Cadet Yu Vol. 2 (BOOM! Studios)
A young boy gets the opportunity of a lifetime when he bonds with a giant sentient robot and joins the ranks of the illustrious Sky Corps Academy to protect the world from alien threats.
As the alien invasion grows to a worldwide threat, the Mech Cadets answer the call alongside their robos to defend the planet. First-year students, however, are grounded and forbidden from fighting on the front lines. But while training in secret, Stanford and his friends discover that their enemy takes more shapes than they could have ever known.
Mech Cadet Yu is such a special series and I am so glad to have it in my life. Its main character has the biggest heart I've seen since some of the anime I grew up with. The second volume is available in comic shops this week and everywhere books are sold after that. Click here to order your copy today.
What comics are you picking up this week? Let me know down in the comments below!